Welcome to Bakes and Beyond I am so happy you are here!
Jump to:
About Bakes and Beyond
I'm Neive and I have always had a love for mouthwatering bakes and fun crafts. I have been creating lots of easy tasty treats and easy crafts that are suitable for kids of all ages.
Bakes and Beyond is a fun space that is a passion project for me and my mum. We wanted to create a space to share all the fun creations for others looking to fill those rainy days with yummy and fun activities for kids.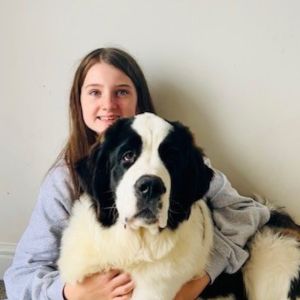 What you will find on Bakes and Beyond
Easy Recipes for Kids - Fun family-friendly recipes everything from no-bake recipes to delicious cakes and bakes.
Fun Crafts - Easy crafts suitable for various ages. From fun-themed crafts to colorful creations.
Step by Step guides - I include visual process steps and as many tips as possible to help every recipe and craft be fun and easy to follow.
More About Me
Why did I start this blog?
I started Bakes and Beyond because I have always had fun baking with my mum in the kitchen and I wanted to share my ideas so that others can try them and have fun with their family.
What's my favorite food?
That's a very hard question but my favorite food would be a Sunday roast dinner because of the Yorkshire puddings and obviously the dessert after!
How do I spend my free time?
when I'm not at the desk or in the kitchen I am ice skating and have competed in many competitions with my synchronized ice skating team. I also like to play with my dogs and you can see the picture of me with my saint bernard puppy Luna!